SHRINE

Michael and Zbigniew Strzalkowski, two Polish friars were martyred in Peru by guerillas of Shining Path,
Peru's Maoist insurgency. They were targeted because of their pastoral work among the inhabitants of the Andes and the assistance they
granted to those in need.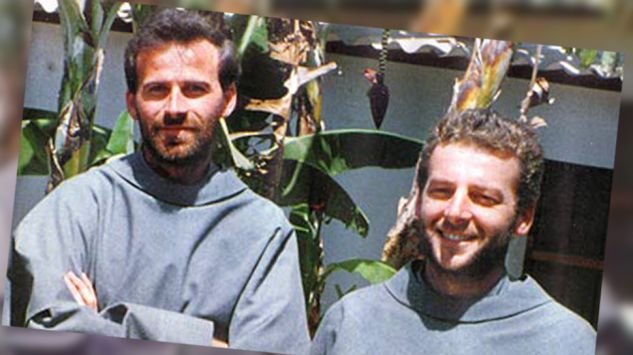 HEAVENLY FATHER, HELP US ALL SPREAD THE GOOD WORD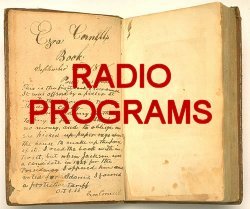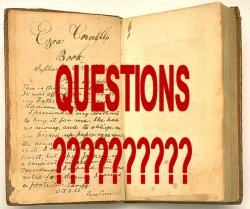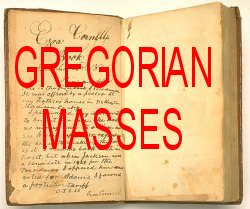 COMMON PRAYERS
RADIO STATIONS
A LENTEN REFLECTION FROM A LETTER TO THE FATHER JUSTIN RADIO PROGRAM
"Often I have to work on Sunday. Once in a while I get to listen to the Rosary Hour, the broadcasts of which are worthwhile for elderly listeners as well as for the young. I heard one of the broadcasts on February 22nd when the title of the program was: "MAKE UP YOUR MIND." That phrase, in my opinion, was the most beautiful and learned of my path in life. It has brought me satisfaction and happiness in over forty years. When I was eighteen years old, I left my parents in Poland and came to America to seek a better piece of bread. I had a big head, but empty and playful. Seeing what was going on here, I came to the conclusion that only fools work hard, but I have a head on my shoulders and I know better. I knew that you don't have to work hard and still live well. I tried to live that kind of a life. So what happened when I proceeded to live a life according to that principle? I soon became an old man and a drifter. I hung out with other "bums" My paradise became a flop house. One day something bothered me: that I would visit a Polish girl where I had previously lived. I came across a dance hall where there was entertainment. I went there. No one there was willing to give me a hand, no one wanted to talk to me, because who would want to talk with such a Madison Avenue bum. At last everyone left, each to his home to his or her family. I left to sleep under a bridge. Then the road led me to Seventh Avenue to St. Adalbert's Church where I used to attend when I first came to America. When I entered through the main doors of the church some unseen force stopped me in my tracks. I stood riveted to the floor without moving. Some hidden inner voice shouted at me. "MAKE UP YOUR MIND." I began to think about that! It seemed to me that some hand kept me riveted to the church floor. I took off my hat and said, My God! What happened to me? When I attended this church, I prayed, I had a job, I had good health, I had some worth, people had a good opinion of me, and I had money in my pocket. And now, here am I and what do I possess? I blessed myself and breathed deeply to God: "Lord, help me return to a simple and honest way of life." At that time I made up my mind to begin a new life. So that was my conversion to a new way of life. That was the last night in my useless and Gypsy life style. I started to go to church. I went to a dive in the Polish district. I found a job. I stopped drinking. From that moment of decision, I was happy, because God gave me health and after health, the passion for work. Since then, in thirty eight years, I missed only two weeks. I never was in need, I always had food. I reared my children and clothed them well and gave them a proper education. An asset in my life is my good wife. I have enough money stashed away for my retirement. If I hadn't made that decision and asked for God's help, I would have died long ago. A man without God can do nothing and accomplish nothing. A man with God's help can accomplish anything."
JUSTIN BIOGRAPHICAL INFO
ROSARY HOUR BROADCASTING STATIONS
FATHER JUSTIN ROSARY HOUR
P.O. Box 454
4190 St. Francis Drive
ATHOL SPRINGS, NEW YORK 14010
PHONE: (716) 627-3861
LINKS TO ASSOCIATIVE INTERNET WEB PAGES
SEND YOUR QUESTIONS TO THE QUESTION BOX


The Father Justin Rosary Hour is the oldest Catholic radio program in the Polish Language in the world. It has been serving the Church and Polonia for 88 years and is conducted by the Conventual Franciscans of St. Anthony of Padua Province in the USA.
The Rosary Hour is a half-hour broadcast addressing topics dealing with religion and culture. The program is carried weekly through a network of radio stations in the United States and Canada. The L'Observatore Romano called it the greatest Polish Pulpit.
The program's format consists of a catechetical address, questions and answers as well as comments and announcements regarding the Church, Polonia and the Rosary Hour. There is a variety of traditional Church hymns and contemporary religious songs, which illustrate the theme of each program. The entire apostolate is financed exclusively by the freewill offerings of its listeners.

The Rosary Hour today has widened its activity to a younger generation of Polonia. The actual recording of the programs, the talks and other materials and information of the activities of this apostolate are accessible through theinternet. By means of cassettes and the internet, the Rosary Hour brings the Gospel message to those whom the radio network does not reach, particularly those hungering for the word of God in Polish.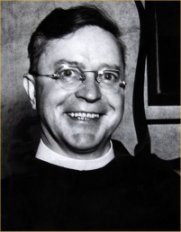 The Rosary Hour staff fulfills the dream of its founder, Fr. Justin Figas, who proposed the task to "create one big family, to rejoice with those who rejoice, weep with those who weep and have the same regard for one another. In keeping with the desires of th Holy Father the Rosary Hour summons its listeners to a new evangelization in the third millennium. The Franciscan Friars also operate the central site of the Knights of the Immaculata for Polonia, which mission is: To lead every individual with Mary to the Most Sacred Heart of Jesus." The MI builds a civilization of love through the new evangelization with Mary in order to realize the universal reign of God in the modern world.
The Fr. Justin Rosary Hour continues its mission begun over 80 years ago by its founder, the well known Franciscan, Fr. Justin Figas, to use prayer and multimedia to instruct and inspire its listeners and participants with authentic Catholic Church teaching and to inform them on current happenings in the Church and Polonia.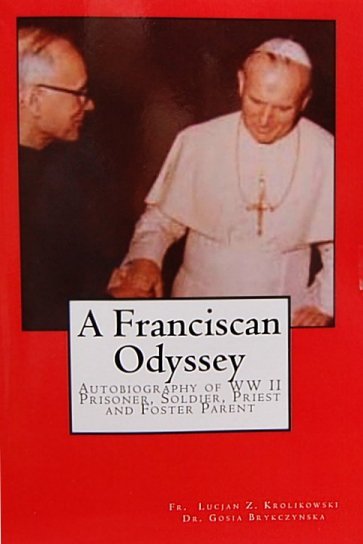 NEW BOOK BY
FR. LUCIAN KROLIKOWSKI
A Franciscan Odyssey
Autobiography of WW II Prisoner, Soldier, Priest and Foster Parent
by Lucian Z. Krolikowski and Dr. Gosia Brykczynska

"A Franciscan Odyssey" is a new version of the popular memoir in Polish by Franciscan friar, Father Lucjan Z. Krolikowski. It was translated from the Polish by Doctor Gosia Brykczynska.
Father Lucjan, of Chicopee, MA was encouraged to write his autobiography by 150 WWII orphans whom he adopted as their foster parent and guardian after the war. Father Lucjan was arrested at the outbreak of WWII and deported to Siberia with one and a half million other Poles (officers, statesmen, intellectuals, policemen, clergy and civilians) by the Stalin regime. Eventually freed because of an agreement between the Polish Government in Exile (in London England) and Stalin. Lucjan became a soldier in the Free Polish Army established to fight the Nazis.
After the war he was ordained a Franciscan priest and became foster parent to 150 war ophans who hsd lost their parent in the Siberian Gulag.
To obtain copy: Contact William R. Parks, Publisher: www.wrparks.com PHONE: 716-810-2726



ROSARY HOUR ART AND ARCHITECTURE

FOR MORE INFORMATION ON THE CONVENTUAL FRIARS, PLEASE ENTER OFMCONV INTO THE GOOGLE SEARCH ENGINE



STORIES FROM OUR LISTENERS

REVITALIZATION OF ROSARY HOUR STUDIOS

IN MEMORIAM

A TRIP TO EVERSON, PA: PARISH OF FR. JUSTIN'S YOUTH font color>


MISSION STATEMENT

WHO IS FRANCIS OF ASSISI?